The unique and original chlorella
"Chikugo (CK-5) strain" discovered
and successfully cultured by Chlorella Industry Co., LTD.
Since we were founded as a world-leading company specializing in chlorella, the "Chikugo (CK-5) strain": our unique chlorella that we pride in, has been developed through many years of research. About 20 species exist for chlorella, and forms and nutrient contents in chlorella differ greatly among these different species. We took chlorella that had a completely different class of potential from the 20 species, and developed the CK-5 strain as a high-quality chlorella strain.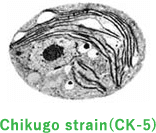 The name was taken from the Chikugo district of Fukuoka prefecture, Japan, where we carry out R&D and culture. The strain is called "CHIKUGO (CK-5)" around the world. We conduct our R&D based on the CHIKUGO (CK-5) strain that has the best-in-the-class quality, and we have given over 680 presentations in medical, pharmaceutical, and nutrition science conferences. It is the most studied strain of chlorella in the world, and its quality is backed up by evidence.

Generally, the cell wall of chlorella is thick and is known to digestion absorption. The CHIKUGO (CK-5) strain is unique in that it has a thinner cell wall compared to other general chlorella strains. Digestible treatment using our original technology is applied to the thin cell walls to make cracks, and this increases the bioavailability to 82%. This cell wall of desirable thickness, functions in an ideal way as a natural microcapsule.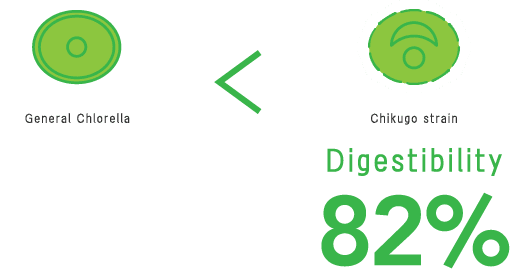 General Chlorella

Chikugo strain

In recent years, polysaccharides are gaining attention for having many health benefits such as immune cell activation. Through research, the CHIKUGO (CK-5) strain is known to secrete such polysaccharides and have them attached extracellularly. This is unique to the CHIKUGO (CK-5) strain out of all chlorella strains, and is thought to be related to its cell wall thinness.
Chlorella extract containing polysaccharides, glycoproteins, and nucleic acid-related substances is extracted from the CHIKUGO (CK-5) strain. This chlorella extract is known to be beneficial for "the intrinsic power of the human body that always tries to maintain its health"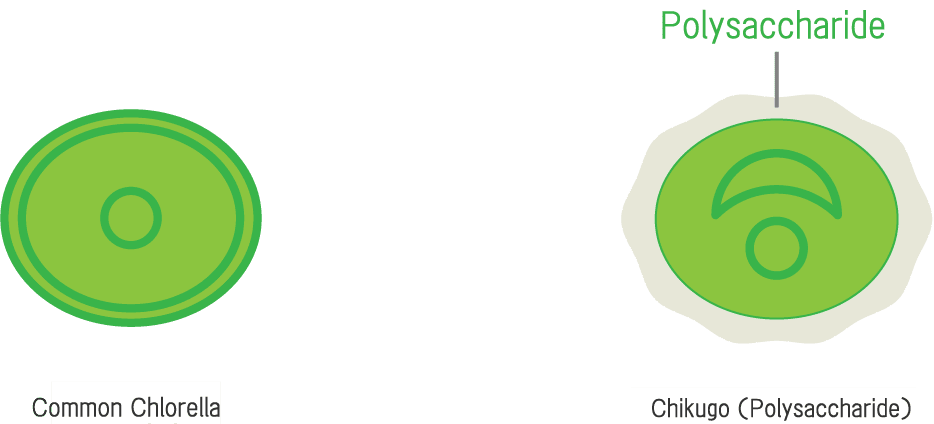 General Chlorella

Chikugo strain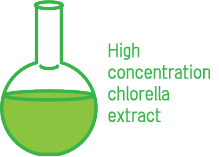 The CHIKUGO (CK-5) strain contains an abundance and good balance of vitamins, minerals, essential fatty acids, fibers, and chlorophyll. Nutritional value is about 10 times more than green and yellow vegetables. The amino acid score is shown to be "100". It will be a good substitute for such vegetables that tends to become deficient in the modern diet.
Vitamin (13 Types)

Total carotene, vitamin B1, vitamin B2, niacin, pantothenic acid, vitamin B6, vitamin B12, folic acid, biotin, vitamin C, vitamin D, vitamin E, vitamin K1

Mineral (12 Types)

Sodium, iron, magnesium, calcium, potassium, phosphorus, zinc, copper, manganese, selenium, chromium, molybdenum

Essential fatty acids (2 Types)

Linoleic acid, Linolenic acid

Dietary fiber (2 Types)

Water soluble dietary fiber, Insoluble dietary fiber

Chlorophyll (2 Types)

Chlorophyll a, chlorophyll b

Amino acids (18 Types)

Isoleucine, leucine, lysine, phenylalanine, methionine, threonine, tryptophan, valine, cystine, tyrosine, arginine, histidine, alanine, aspartic acid, glutamic acid, glycine, proline, serine